Ḥaḍ°rat Sul°ṭān Bāhū (AS)
Ṭaríqat–i Bāhū⫯iýat (Persian,

طَرِیقَتِ بَاهُوِئیَت

[MP3])
Ṭaríqata–i Bāhū⫯iýýata (ʾUr°dū,

طَرِیقَتَِ بَاهُوِئیَّتَ

[MP3])
Ṭaríqah di Bāhū⫯iýat (Pashto/Paṣ̌°tū,

طَرِیقَه دِ بَاهُوِئیَت

[MP3])
Bāhū Lārah (Pashto,

بَاهُو لَارَه

[MP3])
Rastū mān Bāhū⫯iyat (Sindhi/Sin°dʱī,

رَسْتُو مَان بَاُوِئيَت

[MP3])
Bāhū dē Tāriḱaṭa (Shahmukhi Punjabi,

بَاهُو دَے تَارِکَٹَ

[MP3])
Bāhū dē Tārikaṭa (Guramukhi Punjabi,

ਬਾਹੂ ਦੇ ਤਾਰਿਕਟ

[MP3])
Bāhū Dharma (Hindi, बाहू धर्म [MP3]; Nepālī, बाहू धर्म [MP3]; Marāṭhī, बाहू धर्म [MP3]; Bengali/Bāṅāli/Bānlā, বাহূ ধর্ম [MP3]); or Telugu, బాహూ ధర్మ [MP3])
Pāhū Tarmā (Tamiḻ, பாஹூ தர்மா [MP3])
Bahu Pasu (Japanese/Nihongo, バヘゥ パス [MP3])
Pahu T'ongno (Korean/Han'gugŏ/Chosŏnmal, 바후 통로 [MP3])
Bahui Čanaparh (Armenian/Hayeren,

Բահուի ճանապարհ

[MP3])
Đường Bắhủ (Vietnamese/Tiếng Việt [MP3])
Bahu Putʹ (Russian/Rossiâne, Баху Путь [MP3])
Bahu Šlâh (Ukranian/Ukraí̈nsʹka Mova, Баху Шлях [MP3])
Bahu Pateka (Macedonian/Makedonski, Баху Патека [MP3])
Bahu Ceļš (Latvian/Latviešu Valoda [MP3])
Bahu Vojo (Esperanto [MP3])
Bahu Dao (Lingwa de Planeta/Lidepla/LdP [MP3])
Furthermore, Bāhū (AS) has made these promises to His beloveds:
Kirpal Singh (middle) and Paul Twitchell (far right)
I was, therefore, ultimately initiated, following my ethnographic interests, into three other factions of the contemplative Surat Shabd Yoga:
Sree Sree Thakur Anukulchandra Satsang (Bengali শ্রী শ্রী ঠাকুর অনুকূলচন্দ্র সৎসঙ্গ [MP3], Śrīśrīṭhākura Anukūlacandra Saṯsaṅga) is a peculiarly Indocentric Radhasoami tradition. Anukulchandra (1888–1969) supported the Indian caste system. I was initiated by one of his disciples, Ray Archer Hauserman, in his Glen Cove, Long Island, New York, home.
Sant Mat (Hindi, संत मत [MP3], Saṃta Mata, "

truth–teller's teaching

") was founded by Thakur Singh (Hindi, ठाकुर सिंह [MP3], Ṭhākura Siṃha), 1929–2005, one of Kirpal Singh's several successors. Thakur Singh, under whose authority I was initiated (in New York, New York), was, in turn, replaced by Baljit Singh (Hindi, बलजीत सिंह [MP3], Balajīta Siṃha), born in 1962.
Spiritual Freedom Satsang, founded by Michael Turner (born in 1958), is a small organization whose current status is unknown. It is also a part of the Radhasoami Satsang Beas tradition. Specifically, Turner, who personally initiated me over the phone, hails from the offshoot of Eckankar, ATOM: Ancient Teachings of the Masters. That group, now essentially a publishing house, was founded by the late Darwin Gross (1928–2008), a former master in Eckankar who was controversially forced out of the organization.
Surat Shabd Yoga consists of two distinct parts. First, the ears are plugged, and the sound current, supposedly intensifying in frequency as one progresses, is listened to from the right side. Second, the eyes are shut, while utilizing the prescribed regimen of mantras, permitting the meditator to allegedly witness visions of progressively higher planes and the beings residing within them (including, ultimately, one's spiritual master). Before providing the paṅca namaḥ, here are three preliminary points:
Out of a respect for current meditators, and a sincere desire not to unduly offend them, I shall note that, in some groups of the Radhasoami Satsang Beas tradition, the five names are provided

confidentially

. An explicit request is made not to divulge them to others. However, that practice of surreptitiousness is

not

universal.
In the Quan Yin Method (Mandarin Chinese, 观音法 [MP3], Guān–Yīn–Fǎ, "

Way of Witnessing Sound

") of Ching Hai (Mandarin Chinese, 驚駭 [MP3], Jīng Hài, "

astonished one

"), born in 1950, the paṅca namaḥ have been modified, or perhaps unintentionally distorted, as: Gomtrazan, Gwaarla, Rarunka, Sohuan, Satnum. Ching Hai was, like myself, an initiate of Thakur Singh. Yet, to my knowledge, Ching Hai, as with Twitchell before her, has never publicly acknowledged her autobiographical connection with the Radhasoami Satsang Beas tradition.
The precise Sanskrit and Guramukhi Punjabi spellings of the paṅca namaḥ provided here, and the translations of those words, are based upon my own original research.
Jyōta Nirañjana (Sanskrit, ज्योत निरंजन [MP3]) or Jōti Nirajana (Guramukhi Punjabi, ਜੋਤਿ ਨਿਰੰਜਨ, [MP3]), "

Flawless Light

"
Oṃkāra (Sanskrit, ओंकार [MP3]), Ōṅkāra (Guramukhi Punjabi, ਓਂਕਾਰ [MP3]), or Ōꞌakāra (Guramukhi Punjabi, ਓਅੰਕਾਰ [MP3]), "

Oṃ–Maker

"
Raraṃkāra (Sanskrit, ररंकार [MP3]) or Rarakāra (Guramukhi Punjabi, ਰਰੰਕਾਰ [MP3]), "

Reciting the Name of the Dark One

," i.e., Rāma (Sanskrit, राम [MP3]) or Rāma (Guramukhi Punjabi, ਰਾਮ [MP3])
Dharā (Sanskrit, धरा [MP3], "

Support

" or, commonly, "

Waterfall

")
Sindhu (Sanskrit, सिन्धु [MP3], "

Ocean

," "

Stream

," "

Flood

," "

Waters

," "

Sea

," or "

Indus River

")
Pratāpa (Sanskrit, प्रताप [MP3], "

Heat

," "

Warmth

," "

Splendor

," "

Glory

," "

Majesty

," "

Power

," "

Strength

," or "

Energy

")
A. C. Bhaktivedanta Swami Prabhupada
The quotation directly below is a complete translation of the only known, or extant, text by Caitanya. Transliterations from the original Sanskrit were humbly modified by me. I also translated these Sanskrit terms into English:
Artistic Representation of Caitanya Mahāprabhu
Some Concluding Comments
Here are two photographs:
| | | |
| --- | --- | --- |
| Baaz or Northern Goshawk | | Blackbuck or Indian Antelope |
| | | |
| --- | --- | --- |
| Peacock | | Urial, Arkars, or Shapo |
Copyright  ©  2017– Mark A. Foster, Ph.D. All rights reserved.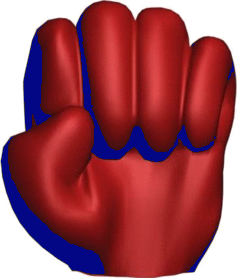 H̱am°saẗ

(Arabic/ʿArabiyyaẗ,

خَمْسَة

),

Ḥaməsāh (Hebrew/ʿIḇəriyṯ,

חַמְסָה‬

),

Häməsa (Amharic/ʾÄmarəña,

ሀምሳ

),

Ḥamšā (Syriac/Suryāyā,

ܚܡܫܐ

),

or Ħamsa (Maltese/Malti),

"

A Semitic Hand Amulet

."

Not

Related to "Hamṣa" (Sanskrit/
Saṃskrtam, हंस

),

"

Swan or Goose

."